Wys 1 tot 10 van 10 eenhede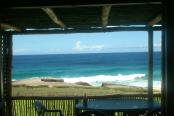 Slaap: 48 in 7 eenhede/kamers
Van
R 1 080,00
Per eenheid per nag.
Casa John vorm die laaste buitepos op Inhambane. Die posisie bied skouspelagtige kus uitsigte, met see-sprei op die dekke van die drie luukse huise.
Nabygeleë Eiendomme
Slaap: 8 in 3 eenhede/kamers
Van
R 250,00
Per persoon per nag (wat deel).
2.9km Noord-Wes van sentrum van Tofinho
Barrabing Gastehuis, gebou op die oewer van die strandmeer in Barra, Inhambane, kyk uit oor die strandmeer wat smelt in die verte in die see. Die huis het 3 ruim slaapkamers, elk met eie privaat ingange, almal met en-suite badkamers. ..
Slaap: 46 in 9 eenhede/kamers
Van
R 1 040,00
Per eenheid per nag.
4.2km Oos van sentrum van Tofinho
Geleë op die duine met 'n 180 grade see uitsig is ons ideaal vir walvisse besigtig vanaf die dek, terwyl die strande ongerep is en veilig is vir jou kinders.
Slaap: 65 in 9 eenhede/kamers
Van
R 500,00
Per eenheid per nag.
5.1km Noord van sentrum van Tofinho
Sunset Lodge is ongeveer 496 km noord van Maputo, op die Barra Point, met mangrove moerasse wat die kalm waters van die Inhambane Bay raam.
5.5km Noord van sentrum van Tofinho
Hierdie nuutgeboude huise by Bibo Sands, Barra Beach, Inhambane, Mosambiek, is aan die Lighthouse Road in die Barra-gebied geleë en word onberispelik bestuur en gemaklik gemeubileer en toegerus.
5.6km Noord van sentrum van Tofinho
The chalets are built at the base of the main primary dune under a shady haven of palm trees with the beach about 60 meters away.
Van
R 2 000,00
Per eenheid per nag.
5.6km Noord van sentrum van Tofinho
Bama Breeze strandhuis is 'n pragtige 2 slaapkamer eenheid wat direk op die strand by Barra, Inhambane geleë is (4 × 4 nie nodig nie). Beide slaapkamers het lugversorging en muskietnette.
5.6km Noord van sentrum van Tofinho
The Crabtree Lodge welcomes you to a true African paradise, where time is measured by the setting sun. The lodge is situated 27km east of Inhambane where you will experience the tranquility and peace
Slaap: 42 in 6 eenhede/kamers
Van
R 230,00
Per persoon per nag (wat deel).
5.7km Noord van sentrum van Tofinho
The lodge can accommodate 200 guests, that add to the holiday feeling. It is a wonderful relaxing holiday lodge, nestled between the beautiful palm grees and white, sandy beaches, close to the city of Inhambane, approximately 525 km from Komatiepoort Bord
Van
R 200,00
Per persoon per nag (wat deel).
5.7km Noord van sentrum van Tofinho
Diving some of the Worlds best dive sites, Swimming/Snorkeling with Dolphins and Whale Sharks, Lazing on secluded / coconut palmed / White - beaches, Bar Hopping over 20 Beach Bars and Restaurants, Eating prawns and seafood until you pop ...
---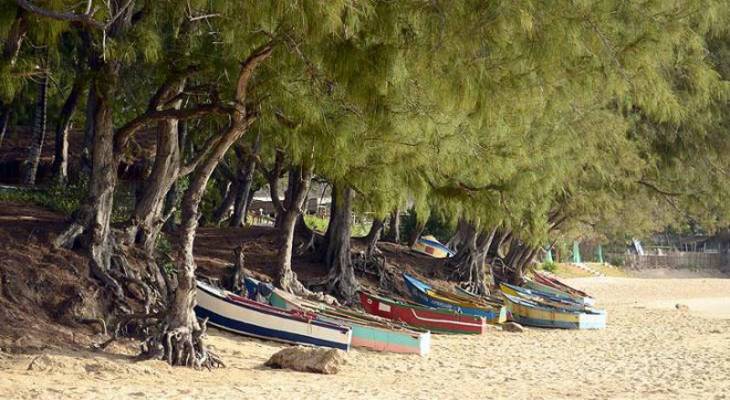 Tofinho
Located twenty kilometers from Inhambane, a world heritage site, on the ocean side of the peninsula is the colourful small village of Tofinho. The town is quite small, consisting of only forty houses and some hotels and other accommodation options which lie scattered throughout the town. Tofinho originated as a fishing village, and the locals still maintain a largely traditional lifestyle.

Tofinho is set amongst avenues of palm trees and the village has become a venue for surfers, both beginners and more experienced surfers, due to its ideal location of a more exposed and rocky headland.The beach is broad and long and made up of white coral sand, and surfers here regularly enjoy the company of dolphins. Visitors with young children should be aware of boat towing vehicles and quad bikes on the beach. There are a wide variety of decent surfing beaches in the region, with the sand point at Tofo beach point providing ideal conditions for beginners and long boarders. A short distance away, the neighbouring Coconut Bay features a splitting peak in the shorebreak, and Southern Quissico has a hollow reef break , though access proves to be relatively difficult.

The area has become a world famous destination for diving, with its magnificent reefs and huge variety of marine life. The water here is warm and divers can expect to see a large variety of fish on the reef, including the whale shark, manta rays and Humpback Whales in the deeper waters.

Fishing is a popular activity at the headland of the Tofinho beach and one of the species mainly caught are kingfish, which are found in abundance in this region. For the unsuccessful though, local fishermen can be often found selling fresh seafood on the shore everyday.

In the centre of Tofinho is a craft market and a few stalls that pass for the local super market, so most visitors make their way to the nearby town of Inhambane, which offers street cafes and restaurants, a market place and shopping which provides most of the basic necessities. Bottled water is widely available in Tofhino, as it's probably not wise to drink the local water. Amoung attractions in Tofinho is the famous Frelimo Monument to Fallen Heroes near which the unfortunate victims of the colonial period were thrown inside the sea cave to be drowned with the rising tidal waves.

The area's night life proves to be somewhat smaller than the larger cites, yet still enjoyable. One of the favourite and less formal venues is the bar at Fatima's Nest backpackers; often described as an every night party place, where visitors can enjoy various drinking games with the staff. Although probably the least authentic, Dino's Bar and Restaurant is one of the more popular spots to go for a decent meal or drinks. Taverns on the outskirts of town, usually open on Sunday afternoons are worthwhile to get away from the more popular tourist spots, and one will find friendly locals willing to share a drink and a few laughs. Local rums and gins in the area are said to be inexpensive but be warned that this is for the brace only. Tipo Tinto is a local rum which comes highly recommended.

WhereToStay Tofinho accommodation ranges from a variety of specific categories such as Tofinho self catering accommodation to Tofinho b and b accommodation and many more.

More sought after Tofinho accommodation categories include Tofinho pet-friendly and Tofinho wheelchair-friendly accommodation. If you are specifically pursuing these Tofinho accommodation categories, then we highly recommend that you contact the accommodation owner directly to ensure that the facilities are satisfactory and to your liking.
The Tofinho pet-friendly accommodation and the Tofinho wheelchair-friendly accommodation facilities can vary between large Tofinho Hotels as well as small room only accommodation. Self catering Tofinho accommodation will occupy the majority of these listings.

99% of all Tofinho guest houses listed on WhereToStay will display rates for your convenience. Occasionally a Tofinho guest house will ask you to request a quotation.
WhereToStay tries to keep the Tofinho self catering and Tofinho b&b standards at the highest levels relative to tariffs charged. Misleading advertising related to any listings of Tofinho B&B and Tofinho self catering accommodation should be reported so that WhereToStay can act accordingly.

See our full list of Tofinho accommodation special categories at the top of this page

AFRIKAANS

WhereToStay Tofinho Akkommodasie wissel van 'n verskeidenheid van spesifieke categoriee soos Tofinho selfsorg akkommodasie, Tofinho, b en b blyplekke en nog veel meer.

Meer gesogte Tofinho slaapplek kategoriee sluit in Tofinho troeteldier-vriendelike blyplekke en Tofinho rolstoel-vriendelike akkommodasie.
As jy spesifiek vrae oor die voorsetting van hierdie Tofinho blyplekke, sal dit raadsaam wees om kontak met die eienaars te maak om te verseker dat die fasiliteite bevredend is en na you hart.

Die Tofinho troeteldier-vriendelike verblyf en Tofinho rolstoel-vriendelike vakansie blyplekke kan wissel tussen Tofinho Hotelle asook klein kamer akkommodasie in Tofinho. Tofinho selfsorg slaapplekke sal die meerderheid van hiedie inskrywings beset.

99% van alle Tofinho gastehuise gelys op WhereToStay sal pryse vertoon vir u gerief. Soms sal 'n Tofinho gastehuis vra om 'n kwotasie te versoek.

WhereToStay probeer om die lys van Tofinho slaapplek standaarde op die hoogste vlakke (relatief tot tariewe) gehef hou.
Misleidende advertensies wat verband hou met enige lys van Tofinho blyplekke moet aangemeld word sodat WhereToStay kan daarvolgens optree.