Wys 1 tot 10 van 10 eenhede
Van
R 1 500,00
Per eenheid per nag.
Our fully furnished/serviced and equipped self catering house is situated on the beach front with a 180 degree breaker view. There are FOUR en suite bedrooms which sleep 2 persons per room. All the en suite bathrooms have a shower, basin and toilet, howev
Nabygeleë Eiendomme
Van
R 605,00
Per eenheid per nag.
18.2km Noord-Oos van sentrum van Jangamo
Clay brick & cement construction with thatch roof ; Open plan kitchen-lounge-dining room. Scullery. Main bedroom en-suite bathroom Loft bedroom-en-suite bathroom.
Van
R 2 660,00
Per eenheid per nag.
18.7km Oos van sentrum van Jangamo
In the heart of Paindane, Inhambane, Mozambique, Casa 32 Lighthouse Reef welcomes guests to a luxury tropical sanctuary, where greetings of warm smiles and gentle breezes fill each day.
18.9km Noord-Oos van sentrum van Jangamo
This luxury family villa (8 persons) is located on top of a dune and has full sea view over Guinjata Bay. This bay in the Inhambane province is the perfect place for relaxing, diving, snorkelling, fishing or a cultural experience.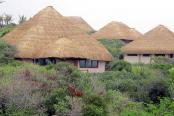 Slaap: 48 in 6 eenhede/kamers
Van
R 1 000,00
Per eenheid per nag.
19.1km Noord-Oos van sentrum van Jangamo
Seablue is situated approximately 24 km from Inhambane with a coast line of golden beaches fringed with swaying palms and the warm Indian ocean offering diverse tropical reefs and it makes the area a true holidaymakers and scuba divers paradise.
Slaap: 28 in 4 eenhede/kamers
Van
R 800,00
Per eenheid per nag.
19.2km Noord-Oos van sentrum van Jangamo
Vista Bonita offers exclusive self catering accommodation for those seeking a more private and relaxing stay. We pride ourselves on the care we take of our patrons
Slaap: 40 in 5 eenhede/kamers
Van
R 350,00
Per persoon per nag (wat deel).
20.6km Noord-Oos van sentrum van Jangamo
Want to get lost in paradise, escape the rat race, sipping sundowners in the splash pool overlooking the ocean, watching the dolphins surfing the waves, and yet be close enough to dive.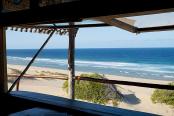 Van
R 700,00
Per eenheid per nag.
21.0km Noord-Oos van sentrum van Jangamo
The Esperanza Lodge is offering luxury accommodation opposite the unique Paindane bay and reef. This Bay ensures a constant breeze from the ocean and is a virtually mosquito-free environment.
Van
R 1 500,00
Per eenheid per nag.
23.6km Suid van sentrum van Jangamo
The Turquoise Seahorse Moz is situated just south of Inhambane. The house is based in a well secured estate / holiday resort, 300m walking distance from the beach.
Slaap: 32 in 4 eenhede/kamers
Van
R 3 000,00
Per eenheid per nag.
24.8km Noord van sentrum van Jangamo
The two houses are positioned on the dune overlooking Praia da Barra (Barra Bay & Beach) and Flamingo Bay, situated approx 300m from the beach with a 180 degree view of the Inhambane estuary.
WhereToStay Jangamo accommodation ranges from a variety of specific categories such as Jangamo self catering accommodation to Jangamo b and b accommodation and many more.

More sought after Jangamo accommodation categories include Jangamo pet-friendly and Jangamo wheelchair-friendly accommodation. If you are specifically pursuing these Jangamo accommodation categories, then we highly recommend that you contact the accommodation owner directly to ensure that the facilities are satisfactory and to your liking.
The Jangamo pet-friendly accommodation and the Jangamo wheelchair-friendly accommodation facilities can vary between large Jangamo Hotels as well as small room only accommodation. Self catering Jangamo accommodation will occupy the majority of these listings.

99% of all Jangamo guest houses listed on WhereToStay will display rates for your convenience. Occasionally a Jangamo guest house will ask you to request a quotation.
WhereToStay tries to keep the Jangamo self catering and Jangamo b&b standards at the highest levels relative to tariffs charged. Misleading advertising related to any listings of Jangamo B&B and Jangamo self catering accommodation should be reported so that WhereToStay can act accordingly.

See our full list of Jangamo accommodation special categories at the top of this page

AFRIKAANS

WhereToStay Jangamo Akkommodasie wissel van 'n verskeidenheid van spesifieke categoriee soos Jangamo selfsorg akkommodasie, Jangamo, b en b blyplekke en nog veel meer.

Meer gesogte Jangamo slaapplek kategoriee sluit in Jangamo troeteldier-vriendelike blyplekke en Jangamo rolstoel-vriendelike akkommodasie.
As jy spesifiek vrae oor die voorsetting van hierdie Jangamo blyplekke, sal dit raadsaam wees om kontak met die eienaars te maak om te verseker dat die fasiliteite bevredend is en na you hart.

Die Jangamo troeteldier-vriendelike verblyf en Jangamo rolstoel-vriendelike vakansie blyplekke kan wissel tussen Jangamo Hotelle asook klein kamer akkommodasie in Jangamo. Jangamo selfsorg slaapplekke sal die meerderheid van hiedie inskrywings beset.

99% van alle Jangamo gastehuise gelys op WhereToStay sal pryse vertoon vir u gerief. Soms sal 'n Jangamo gastehuis vra om 'n kwotasie te versoek.

WhereToStay probeer om die lys van Jangamo slaapplek standaarde op die hoogste vlakke (relatief tot tariewe) gehef hou.
Misleidende advertensies wat verband hou met enige lys van Jangamo blyplekke moet aangemeld word sodat WhereToStay kan daarvolgens optree.