Wys 1 tot 10 van 10 eenhede
Van
R 2 000,00
Per eenheid per nag.
Bama Breeze strandhuis is 'n pragtige 2 slaapkamer eenheid wat direk op die strand by Barra, Inhambane geleë is (4 × 4 nie nodig nie). Beide slaapkamers het lugversorging en muskietnette.
Van
R 1 500,00
Per eenheid per nag.
The Turquoise Seahorse Moz is situated just south of Inhambane. The house is based in a well secured estate / holiday resort, 300m walking distance from the beach.
Van
R 200,00
Per persoon per nag (wat deel).
Diving some of the Worlds best dive sites, Swimming/Snorkeling with Dolphins and Whale Sharks, Lazing on secluded / coconut palmed / White - beaches, Bar Hopping over 20 Beach Bars and Restaurants, Eating prawns and seafood until you pop ...
Slaap: 40 in 5 eenhede/kamers
Van
R 350,00
Per persoon per nag (wat deel).
Want to get lost in paradise, escape the rat race, sipping sundowners in the splash pool overlooking the ocean, watching the dolphins surfing the waves, and yet be close enough to dive.
Nabygeleë Eiendomme
Slaap: 32 in 4 eenhede/kamers
Van
R 3 000,00
Per eenheid per nag.
1.1km Suid-Wes van sentrum van Inhambane
The two houses are positioned on the dune overlooking Praia da Barra (Barra Bay & Beach) and Flamingo Bay, situated approx 300m from the beach with a 180 degree view of the Inhambane estuary.
Slaap: 8 in 3 eenhede/kamers
Van
R 250,00
Per persoon per nag (wat deel).
11.4km Noord-Oos van sentrum van Inhambane
Barrabing Gastehuis, gebou op die oewer van die strandmeer in Barra, Inhambane, kyk uit oor die strandmeer wat smelt in die verte in die see. Die huis het 3 ruim slaapkamers, elk met eie privaat ingange, almal met en-suite badkamers. ..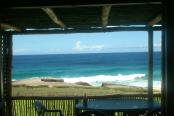 Slaap: 48 in 7 eenhede/kamers
Van
R 1 080,00
Per eenheid per nag.
12.0km Noord-Oos van sentrum van Inhambane
Casa John vorm die laaste buitepos op Inhambane. Die posisie bied skouspelagtige kus uitsigte, met see-sprei op die dekke van die drie luukse huise.
13.4km Noord-Oos van sentrum van Inhambane
Campbell's Bay Selfsorg akkommodasie is in 2004 geopen deur Willy en Gayle Strong, oorspronklik van Port Edward aan die Suidkus van KwaZulu-Natal, Suid-Afrika. Hulle het altyd vakansie gehou in Mosambiek en het voorheen huise daar besit.
Slaap: 65 in 9 eenhede/kamers
Van
R 500,00
Per eenheid per nag.
14.6km Noord-Oos van sentrum van Inhambane
Sunset Lodge is ongeveer 496 km noord van Maputo, op die Barra Point, met mangrove moerasse wat die kalm waters van die Inhambane Bay raam.
Slaap: 42 in 6 eenhede/kamers
Van
R 230,00
Per persoon per nag (wat deel).
14.6km Noord-Oos van sentrum van Inhambane
The lodge can accommodate 200 guests, that add to the holiday feeling. It is a wonderful relaxing holiday lodge, nestled between the beautiful palm grees and white, sandy beaches, close to the city of Inhambane, approximately 525 km from Komatiepoort Bord
---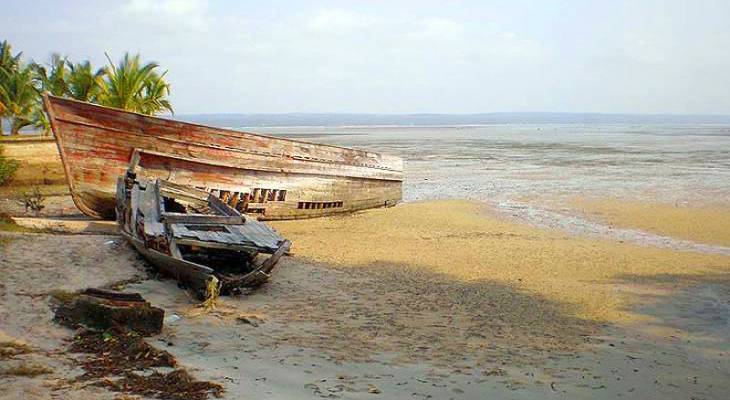 Inhambane
Inhambane, the name meaning 'the place of the friendly people', is one of the oldest ports on the Eastern Coast of Africa, where, back in the early 16th century, Portugese explorers established a trading post for slave traders. The town is located in southern Mozambique, lying on Inhambane Bay, four hundred and seventy kilometers northeast of Maputo. Inhambane is one of the most beautiful areas of Mozambique, with pristine beaches, coconut palm groves and salt water mangroves.

Scuba diving in Inhambane is particularly popular in locations such as Manta Reef and Gallaria. Giant Manta Rays, Whale sharks, Turtles and other marine life are regularly seen and there are many professional scuba diving operations throughout the province. Many tourists are under the impression that they can dive from Inhambane itself, but the closest diving to Inhambane is actually at Praia do Tofo. Tofo is also known as the whale shark Mecca of the world.

One can find most basic facilities and supplies in Inhambane, such as banks, shops, petrol stations, markets, public phones and internet access. Visitors to Inhambane are sure to find the old Portugese colonial architecture interesting as there are many old buildings in the city, which include the two hundred year old Our Lady of the Conception Catholic Cathedral, and the Old Mosque that was built back in 1840. Local arts and crafts can be viewed and purchased at the local market, with the skillfully made woven straw baskets and mats being most notable. Tourists will more than likely witness the local musical tradition, played throughout the town on chopi xylophones.

Other attractions include the Inhambane Museum where one can find everything from interesting artifacts found in Mozambique, to agricultural tools and instruments, and old photo's. Located near the bay is the Linga Linga Nature Reserve, which was formely a whaling station. The reserve is now one of the last remaining places in Southern Mozambique frequented by the rare aquatic mammal, the dugong, and is accessable via dhow or short boat ride from the harbour.

WhereToStay Inhambane accommodation ranges from a variety of specific categories such as Inhambane self catering accommodation to Inhambane b and b accommodation and many more.

More sought after Inhambane accommodation categories include Inhambane pet-friendly and Inhambane wheelchair-friendly accommodation. If you are specifically pursuing these Inhambane accommodation categories, then we highly recommend that you contact the accommodation owner directly to ensure that the facilities are satisfactory and to your liking.
The Inhambane pet-friendly accommodation and the Inhambane wheelchair-friendly accommodation facilities can vary between large Inhambane Hotels as well as small room only accommodation. Self catering Inhambane accommodation will occupy the majority of these listings.

99% of all Inhambane guest houses listed on WhereToStay will display rates for your convenience. Occasionally a Inhambane guest house will ask you to request a quotation.
WhereToStay tries to keep the Inhambane self catering and Inhambane b&b standards at the highest levels relative to tariffs charged. Misleading advertising related to any listings of Inhambane B&B and Inhambane self catering accommodation should be reported so that WhereToStay can act accordingly.

See our full list of Inhambane accommodation special categories at the top of this page

AFRIKAANS

WhereToStay Inhambane Akkommodasie wissel van 'n verskeidenheid van spesifieke categoriee soos Inhambane selfsorg akkommodasie, Inhambane, b en b blyplekke en nog veel meer.

Meer gesogte Inhambane slaapplek kategoriee sluit in Inhambane troeteldier-vriendelike blyplekke en Inhambane rolstoel-vriendelike akkommodasie.
As jy spesifiek vrae oor die voorsetting van hierdie Inhambane blyplekke, sal dit raadsaam wees om kontak met die eienaars te maak om te verseker dat die fasiliteite bevredend is en na you hart.

Die Inhambane troeteldier-vriendelike verblyf en Inhambane rolstoel-vriendelike vakansie blyplekke kan wissel tussen Inhambane Hotelle asook klein kamer akkommodasie in Inhambane. Inhambane selfsorg slaapplekke sal die meerderheid van hiedie inskrywings beset.

99% van alle Inhambane gastehuise gelys op WhereToStay sal pryse vertoon vir u gerief. Soms sal 'n Inhambane gastehuis vra om 'n kwotasie te versoek.

WhereToStay probeer om die lys van Inhambane slaapplek standaarde op die hoogste vlakke (relatief tot tariewe) gehef hou.
Misleidende advertensies wat verband hou met enige lys van Inhambane blyplekke moet aangemeld word sodat WhereToStay kan daarvolgens optree.