Wys 1 tot 6 van 6 eenhede
Slaap: 10 in 2 eenhede/kamers
Van
R 1 400,00
Per eenheid per nag.
Bungalow One has 1 double bed in bedroom 1 and 2 singles in bedroom 2. Bungalow Two has 1 double bed in bedroom 1 and 2 three quarter and 1 single in bedroom 2. Also includes a sleep couch.
Slaap: 80 in 36 eenhede/kamers
Van
R 395,00
Per persoon per nag (wat deel).
The Umtali Country Inn offers comfortable, clean accommodation & well-appointed conferencing facilities for the discerning leisure, business, & government traveler. This 33-bedroom establishment is conveniently situated in safe, green surroundings
Nabygeleë Eiendomme
Slaap: 6 in 2 eenhede/kamers
29.5km Noord-Oos van sentrum van Aliwal Noord
Ebbie & Minette Hattingh invites you to a delightful farm experience at the Mooivlei Guest Farm. We offer you 2 very comfortable and homely stone cottages which are fully furnished and consist of an open plan bedroom, dining area and kitchen.
Van
R 375,00
Per persoon per nag (wat deel).
35.4km Suid-Oos van sentrum van Aliwal Noord
Your comfort is our goal. We have created a restful retreat that you can think of as your home away from home when you're in Queenstown. Cozi Corner offers services for any traveler whether you're on business or your journey is for pleasure. When you plan
35.7km Oos van sentrum van Aliwal Noord
Die huis is geleë op die plaas Brakfontein, tussen Aliwal-Noord en Lady Grey. Ons is 45 km vanaf Aliwal-Noord en 22 km vanaf Lady Grey.
44.9km Wes van sentrum van Aliwal Noord
Caledon River Holiday Farm in Bethulie, break away to a peaceful farm atmosphere on the banks of the Caledon River. Also ideal for camps, team building!
---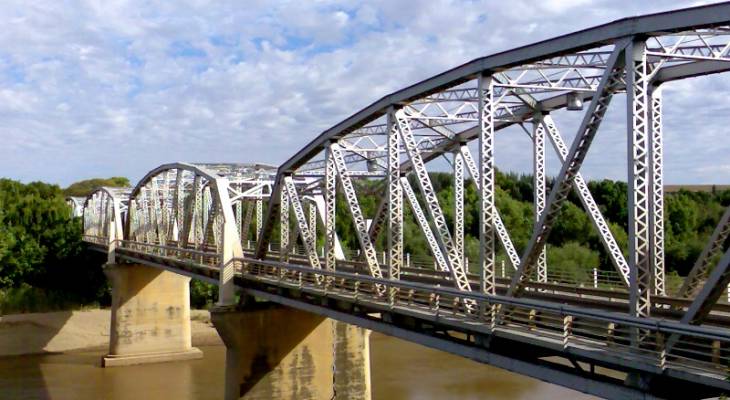 Aliwal Noord
Famous attractions for tourists to Aliwal North are the two hot mineral springs. The Aliwal North's holiday resort offers both indoor and outdoor heated pools, fed by the two thermal springs which surface from the Gariep River at 34C. It is suggested that the high concentration of minerals and gases in the spring water help to alleviate ailments such as rheumatism and arthritis.

Visitors to Aliwal North may wish to discover the ancient San rock art work in caves of the surrounding area. The nearby Buffelspruit Nature Reserve is home to hundreds of antelope and buffalo. Zebras and oryx have also been re-introduced to the park.

Aliwal North Accommodation - Looking for holiday or business accommodation in Aliwal North?
You will find a variety of such accommodation in and around Aliwal North on WhereToStay.co.za.
We strive to recruit a variety of new suitable Aliwal North Bed and Breakfasts, Guest Houses, Guest Lodges, Self Catering Cottages and Self Catering Houses accommodation in and around Aliwal North.
Whether it be Bed and Breakfasts, guest houses or self catering accommodation, our intention is to offer Aliwal North accommodation to suit all tastes and all pockets, not necessarily only upmarket accommodation.

Star graded accommodation in Aliwal North is normally first choice for Where to Stay, but not always possible because so many perfect accommodation destinations have not yet applied for a star grading (see Star Graded link to star graded establishments)
If you aren't successful in finding suitable accommodation in the town of Aliwal North, then check out our maps to find nearby towns with suitable bed and breakfast accommodation, guest house accommodation or self catering accommodation in Aliwal North.
WhereToStay Aliwal North accommodation ranges from a variety of specific categories such as Aliwal North self catering accommodation to Aliwal North b and b accommodation and many more.

More sought after Aliwal North accommodation categories include Aliwal North pet-friendly and Aliwal North wheelchair-friendly accommodation. If you are specifically pursuing these Aliwal North accommodation categories, then we highly recommend that you contact the accommodation owner directly to ensure that the facilities are satisfactory and to your liking.
The Aliwal North pet-friendly accommodation and the Aliwal North wheelchair-friendly accommodation facilities can vary between large Aliwal North Hotels as well as small room only accommodation. Self catering Aliwal North accommodation will occupy the majority of these listings.

99% of all Aliwal North guest houses listed on WhereToStay will display rates for your convenience. Occasionally a Aliwal North guest house will ask you to request a quotation.
WhereToStay tries to keep the Aliwal North self catering and Aliwal North b&b standards at the highest levels relative to tariffs charged. Misleading advertising related to any listings of Aliwal North B&B and Aliwal North self catering accommodation should be reported so that WhereToStay can act accordingly.

See our full list of Aliwal North accommodation special categories at the top of this page

AFRIKAANS

WhereToStay Aliwal North Akkommodasie wissel van 'n verskeidenheid van spesifieke categoriee soos Aliwal North selfsorg akkommodasie, Aliwal North, b en b blyplekke en nog veel meer.

Meer gesogte Aliwal North slaapplek kategoriee sluit in Aliwal North troeteldier-vriendelike blyplekke en Aliwal North rolstoel-vriendelike akkommodasie.
As jy spesifiek vrae oor die voorsetting van hierdie Aliwal North blyplekke, sal dit raadsaam wees om kontak met die eienaars te maak om te verseker dat die fasiliteite bevredend is en na you hart.

Die Aliwal North troeteldier-vriendelike verblyf en Aliwal North rolstoel-vriendelike vakansie blyplekke kan wissel tussen Aliwal North Hotelle asook klein kamer akkommodasie in Aliwal North. Aliwal North selfsorg slaapplekke sal die meerderheid van hiedie inskrywings beset.

99% van alle Aliwal North gastehuise gelys op WhereToStay sal pryse vertoon vir u gerief. Soms sal 'n Aliwal North gastehuis vra om 'n kwotasie te versoek.

WhereToStay probeer om die lys van Aliwal North slaapplek standaarde op die hoogste vlakke (relatief tot tariewe) gehef hou.
Misleidende advertensies wat verband hou met enige lys van Aliwal North blyplekke moet aangemeld word sodat WhereToStay kan daarvolgens optree.