Gecko Rock Private Nature ReserveEnglish
SPESIALE AANKONDIGING! Ontvang vroeë kennisgewings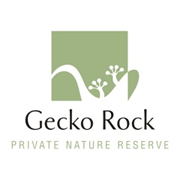 Ligging & Kontak Besonderhede
Adres:
Gecko Rock Private Nature Reserve
Touwsrivier
Western Cape
South Africa
Kontak :

Sharon Deal

Plaaslike Tel (1) :

023-3589902

INT Tel (1) :

+27-23-3589902

Plaaslike Tel (2) :

023-3589903

INT Tel (2) :

+27-23-3589903

Sel (1) :

082-4938733

Sel (2) :

076-8385150
Gecko Rock Private Nature Reserve
Our mission at Gecko Rock is to offer our visitors an unparalleled outdoor experience in the South African Karoo - one of the most unique natural areas on earth.
The scope of activities on offer at this special place, where the emphasis is on preservation of the environment, is sure to hold an attraction for everyone.

The list of options includes:
Camping and hiking
Guided 4x4 and 4x2 routes as well as driver training
Rock climbing and Abseiling
Mountain Biking
Customised team building events and conference facilities
Flower and succulent tours
Bird watching
Star gazing
Photography
Or, simply relaxing in an unhurried retreat far away from cell phones and city stress...

Gecko Rock was acquired by the Deal family in 2002, and has been developed in accordance with regulations specified by the Department of Environmental Affairs. It has become 'home' to us, and our wish is that you will feel the same way…

Visitors to Gecko Rock have the choice of two campsites, a wooden cottage and wooden cabins.

Rheboksvlakte Cottage

Fully equipped for self catering, Rheboksvlakte offers a very private stay. Situated in a panoramic valley the cottage promises a front row seat to the best sunrise in the Karoo. Of wooden construction, the insulated finish ensures cool days and warm nights.
Designed for two adults, the cottage will accommodate two small children on mattresses inside or just outside the door in a tent, where they can enjoy their own adventure.

Tranquility, Solitude and Panorama wooden cabins

Our larger cabins are situated alongside De Wets Rus Campsite and comfortably sleep 6 persons. Modern kitchen area with full size fridge/freezer, 2 plate gas cooker, solar lighting and a plug to charge electronic devices make this your home away from home. A full size stoep with outside table and chairs makes the best of breathtaking views. The braai area is a step down off the deck. All linen (excluding towels) is supplied. Ablutions are a short walk down a neat path where you have a piping hot shower, basin, mirror and toilet. Parking for your vehicle right next to the cabin.
Please note: No hair dryers, kettles, heaters etc. to be used in these cabins.

Facilities:
Sleeps 6 (All single beds) (Double bed on request)
Bedding (sheet, pillows x 2, duvet and additional blanket)
Well appointed kitchen
Cleaning materials - Sunlight liquid
Dish cloths
Full size fridge/freezer
Crockery and Cutlery
Two burner gas cooker
6 seater dining room table
3 seater couch and coffee table
Moveable braai and grid
Braai essentials (tongs/casserole dish)
Solar system for lighting and charging of cell phones etc.
Bathroom facilities in campsite - Hot & Cold shower, Basin, toilet and Mirror
Toilet Paper (one roll provided)

De Wet's Rus Campsite

Situated under shady trees in an alluvial plain, this site is equipped with four toilets and four showers in two separate locations. The communal area has a generous kitchen, a central braai area with steel braai drums and grids. For those lazy Karoo days, there is a splash pool which is filled from Mid September to Mid April. There is ample space for up to 20 vehicles. The site is intended for properly equipped campers - there is no electricity supply or cell phone signal.
For campers who enjoy their privacy there is ample space here to choose & enjoy your own spot with moveable braais for your convenience.

Facilities:
Campsite can accommodate up to 20 vehicles (60 people)
Kitchen with hot and cold running water
4 Toilets with 4 showers in two separate locations
Central braai area
Movable braai's for private camping
Splash pool (filled Mid September to Mid April)
1 x 8 seater table and benches

Echo Valley Campsite

Nestled in a private valley, this intimate campsite is ideal for smaller groups who prefer privacy. The shower and toilet is located at a convenient distance from the camp area and the communal area is equipped with a sheltered kitchen, leading to the braai.
This is the perfect location for climbers as all three climbing walls are in walking distance.

Facilities
Campsite can accommodate up to 5 vehicles (10 people)
Kitchen with running water
1 Toilet & shower
Central braai area
Betalings Opsies
Jammer, geen kredietkaarte aanvaar nie
Eienaar Taalopsies
Afrikaans
English
Xhosa
Uitleg Slaapgeriewe
Rheboksvlakte Cottage (Slaap 2) x 1
Wooden Cabins (Slaap 7) x 3

Slaapkamer 1 - driekwart, driekwart, driekwart, driekwart, driekwart, driekwart, enkele slaapbank
Fasiliteite
grootwild
braai
braai - kommunale
buite swembad
gediens
kombuis (volledig toegerus)
kombuis kommunale
kombuisie (sommige eenhede)
konferensie lokaal
natuur roete op die terrein
nie gediens
Troeteldiere word toegelaat indien dit vooraf gereël word.
Bladsy Statistieke
5951
besigtings sedert
14 Apr, 2016
. Laas opgedateer op
25 Jun, 2019
.